The Arkansas SkyDome Planetarium
Bring the wonders of the night sky to your school or group with the Arkansas SkyDome Portable Planetarium and Space Science Museum.
Our planetarium sets up in your large indoor space bringing a star filled experience to your students.  The program features a grade appropriate tour of the current night sky that encourages students to go outside that night to explore the heavens themselves.  The feedback we've received indicates many students do!  For younger students (3rd and below) we offer a short introduction to the constellations (pictured) by telling some of the fun stories of the stars. Seating Capacity: 30
We bring 8-10 tables (supplied by the host) worth of earth / space science exhibits.  These include astronaut autographs going back to project Mercury, NASA memorabilia, model rockets, soil samples from around the world, Arkansas minerals, meteorites, fossils and more.
Weather and program specifics allowing, we bring telescopes to show students objects in the real sky.  Age appropriate, we have a solar telescope to let students safely observe the surface of the sun.  We also have a GPS telescope (pictured) that lets us show students objects in the daytime sky!  Venus, Mercury, Jupiter, the Moon, and a couple of the brightest stars can be seen if conditions allow.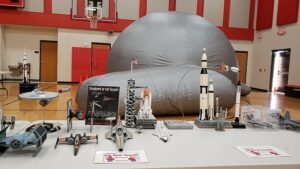 We serve all of Arkansas and parts of our surrounding states.
Indoor, clean floor with an area of 25′ by 25′ and at least 12′ tall ceiling.  We can sometimes make a 10′ ceiling work in a pinch.
120v electrical outlet
Easy access to park and bring equipment in and out.  We have a car and trailer full!  Student volunteers to help with loading / unloading are always welcome.
8-10 tables to setup the exhibits on.
For telescopes: Easy access for students to go out to use the telescopes that is reasonably secure between groups.
SkyDome personnel can not accept responsibility for students. A teacher / organization representative must be present at all times during programs and when possible accompany students inside the planetarium.
Every reasonable effort is made to ensure a safe experience. However, the hosting organization agrees to assume liability for our visit and to coordinate with us to change things as needed to ensure the safety of participants.
Host organization assumes responsibility for theft or damage to equipment / exhibits caused by attendees beyond normal wear and tear.
Unless other arrangements are made (we are happy to work with you), the program fee is due on the date of the programs. When you schedule the program we'll send you an estimate.  One to two weeks before our visit, estimates will be converted to invoices which can be paid online.
CREDIT CARD PROCESSING FEE is if you decide to pay online via credit card. Our vendor charges us a fee for this service, which we split with you half and half. If you pay by check just remove that fee.
There are no reservation or cancellation fees. We are happy to work with you in the event you need to reschedule or cancel.
When applicable plan at least a 30 min. lunch / dinner break for SkyDome hosts.
The SkyDome Planetarium typically seats one classroom of students ~ 25 – 30 students.  We can usually accommodate up to two classrooms per block, with one class in the planetarium and the other exploring the exhibits. Each block should be at least 45 minutes to an hour.  If two classes are visiting per block please try to allow as close to an hour as possible; especially if they will be viewing through the telescope.
If you have fewer students we can do blocks as long as 2 hours. 
If possible please have a printout of the day's schedule available for SkyDome hosts. 
SkyDome hosts will need to arrive about an hour prior to the first scheduled class to setup.
Pick a program that best fits your schedule and organization. All plans include the planetarium, exhibits, and telescopes.
Scout Camps / Conferances
*Additional Travel Fees:
$0.70 / mile ($0.35/mile there & $0.35/mile back) for programs outside Faulkner County
$150 / night for lodging.  (This is usually required for programs starting in the morning that are 1+ hours drive time or more)
Faulkner County Math / Science Night
We give back to our community by offering free Math / Science Night programs for schools in Faulkner County. 
Contact us about scheduling a program.