Arkansas SkyDome Portable Planetarium and Science Museum
Math / Science Night Programs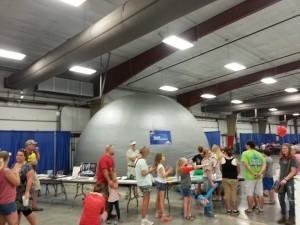 Math and Science night are a popular school program that showcases exhibitors from various disciplines of science.  Typically a school will host one in the evening and invite representatives from different organizations to participate.  We would love the opportunity to participate in such events.  As there is usually not enough time to do full programs, but merely a brief demonstration of the SkyDome, we do not charge for attending Math / Science nights in our local area.  Weather and sunset permitting we can also setup telescopes outside in lieu of the SkyDome.
Program Rates
Faulkner County Schools:       Free

For schools located outside Faulkner county, contact us about the possibility of our attendance and any fees for travel.
Requirements For SkyDome
Programs will be brief ~5 Min. tours of the night sky inside.

School assumes responsibility for damage to equipment / exhibits caused by attendees beyond normal wear and tear.
Indoor room (Gym, Cafeteria, etc.) Minimum floor space: 30 feet by 30 feet

Minimum ceiling height: 12 feet with no obstructions (light fixtures, etc.)

Easy access to parking to bring in and take out equipment

2 grounded 120-volt standard electrical outlets.

Clean, swept floor.

~30 minutes to setup / breakdown equipment
Schedule A Program
For more information or to schedule a program contact Stephen, program host, at:observatory@arkansassky.com or 501.314.9250

Please schedule at least two weeks in advance.