The Lyrids – Spring's Meteor Shower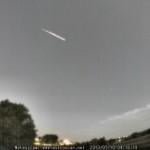 Unfortunately there are few meteor showers during the spring months and they are some of the weakest of the year.  The annual Lyrid meteor shower is perhaps one of the best.  It is active in late April from the 16th-25th, with peak occurring on the morning of April 22nd.  Like most meteor showers, the highest rates come during the early morning hours just prior to dawn. Unfortunately this year there will be a bright moon in the sky the morning of the shower's peak.
What can we expect as far as rates? The Lyrids typically exhibit an ideal Zenithal Hourly Rate (ZHR) of 15-20 per hour, though this shower has been known to have surprise outbursts from time to time in excess of 100. As recently as 1982 the shower had an outburst of 250 per hour.  Though, in recent years, the Lyrids have averaged around 20.
Lyrid meteors originate from Comet C/1861 G1 Thatcher, which is on a 415 year orbit. It was last spotted in 1861 and is expected to come back around again in 2276.
What to expect in Arkansas
The Radiant of the shower (where the meteors seem to come from in the sky) will rise in the ENE around midnight. Prime viewing time will be between 1am – 4am on the morning of the 22nd. During that time an observer away from the light pollution of the city should see (barring an outburst) 15 meteors per hour. If you live in a city that number may be between 5-10 meteors per hour. You'll want to look about 45 degrees away from the radiant to get the best view.  No telescopes or binoculars are required, just a lawn chair to lay back in to see the sky and a blanket to stay warm.
Also make sure to look for Saturn which will be down in the SE skies.
Visit our: Tips for Photographing Meteor Showers
If you're not an early riser, don't worry.  The MeteorCam will be watching, so check back with us to see what it captured.