Eastern Oklahoma / Oklahoma City Portable Planetarium School Programs
Bring the wonders of the night sky and STEM to your school or group with our portable planetarium and mobile science museum!
The Arkansas SkyDome portable planetarium and mobile space science museum provides entertaining and educational space related programs for schools and organizations across Arkansas and our surrounding states. Our programs are hosted by Stephen Meeks, who brings over 30 years of stargazing experience and passion to our events. He also attended numerous Space Shuttle launches at the Kennedy Space Center where he was able to talk to astronauts and NASA personnel, giving your students the rare chance to hear from someone who has seen and experienced our space program in action.
Our inflatable SkyDome sets up easily in your location, bringing a star-filled planetarium to your site. Science exhibits include meteorites, rocket / aircraft models, astronaut autographs, rock and soil samples from around the world, fossils and more. Age appropriate and weather permitting we bring telescopes for safe viewing of the Sun, Moon, planets and other celestial wonders.
More convenient and less costly than a field trip, these programs are suitable for every age group.
Don't just get a planetarium show, get a complete mobile space science museum!
Learn more about the current SkyDome Programs Offered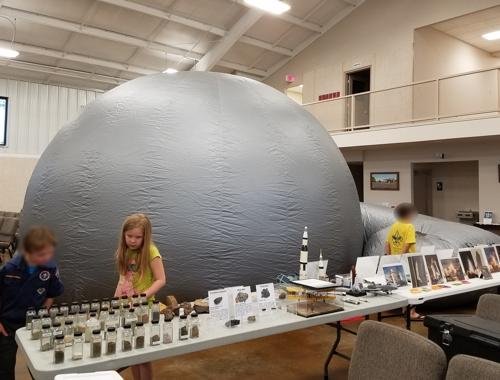 The SkyDome Portable Planetarium does and has visited schools and organizations in eastern Oklahoma.  
To help you determine if a visit from the SkyDome is in your budget, we've prepared the following rate table for eastern Oklahoma.  These are approximate rates per day.  
| | | | |
| --- | --- | --- | --- |
| City |   | 1 day | 2 days or more |
| Sallisaw Planetarium Programs |   | $545 | $495 |
| Tulsa Planetarium Programs |   | $600 | $525 |
| Oklahoma City Planetarium Programs |   | $625 | $535 |
Contact us for a quote or special circumstances.  We are happy to work with you.
Schedule A Program
For more information or to schedule a program contact Stephen at:
skydome@arkansassky.com or 501.314.92506