Dallas / Ft. Worth SkyDome Portable Planetarium Programs
Bring the wonders of the night sky and STEM to your school or group with our portable planetarium and mobile science museum!
The Arkansas SkyDome portable planetarium and mobile space science museum provides entertaining and educational space programs for schools and organizations across the Dallas – Ft. Worth Metroplex and surrounding areas. Our programs are hosted by Stephen Meeks, who brings over 30 years of stargazing experience and passion to our events.  He also attended numerous Space Shuttle launches at the Kennedy Space Center where he was able to talk to astronauts and NASA personnel, giving your students the rare chance to hear from someone who has seen and experienced our space program in action.
Our inflatable SkyDome sets up easily in your location, bringing a star-filled planetarium to your site. Science exhibits include meteorites, rocket / aircraft models, astronaut autographs, rock and soil samples from around the world, fossils and more. Age appropriate and weather permitting we bring telescopes for safe viewing of the Sun, Moon, planets and other celestial wonders.
You don't just get a planetarium show, you get a complete mobile space science museum!
Learn more about the current SkyDome Programs Offered
Program Rates:
| | |
| --- | --- |
| Full School Day Program | $825  |
| Math/Science or Astronomy Night add-on | $75 |
|   |   |
| Book a program on two or more consecutive days: | $625 / day |
| Book programs with one or more neighboring schools on consecutive days: | $650 / day |
Rates include all program fees, mileage and lodging.
Contact us for a quote or for special circumstances.  We are happy to work with you.82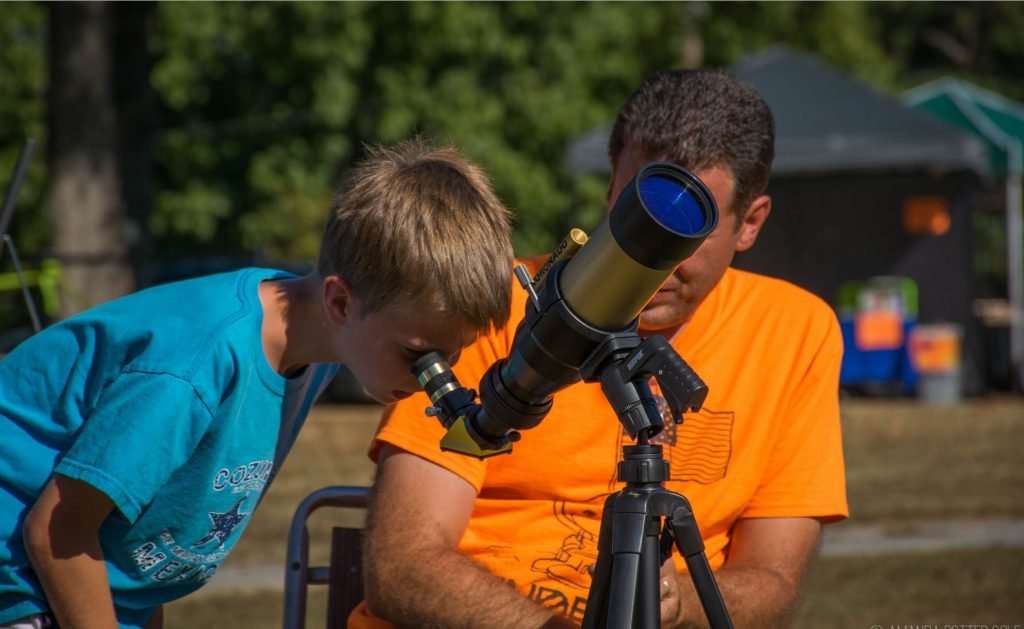 Site Requirements for the planetarium:
Indoor room (Gym, Cafeteria, etc.) Minimum floor space: 30 feet by 30 feet
Minimum ceiling height: 12 feet with no obstructions (light fixtures, etc.)
Easy access to parking to bring in and take out equipment
2 grounded 120-volt standard electrical outlets.
Clean, swept floor.
~45 minutes to setup / breakdown equipment
For telescope use – Nearby outdoor location to setup telescope equipment that is easy for students to transition to and is secure between groups.
For multi-day programs, secure location to lock up equipment overnight.

Program Information & Requirements:

Maximum capacity:

Grades K-7:      35 students

Grades 8-Adult: 30 people 
Programs are 30-60 minutes long depending on your need.

A teacher / parent must be present during programs and accompany student's inside planetarium.

Organization provides 5-8 tables for us to setup the exhibits.

Unless other arrangements are made, program fee due on the date of the programs.

Plan on 45 min. – 1 hour lunch / dinner break for SkyDome hosts where applicable.

Organization assumes responsibility for theft or damage to equipment / exhibits caused by attendees beyond normal wear and tear.

Schedule A Program
For more information or to schedule a program contact Stephen at:
skydome@arkansassky.com or 501.314.9250

Not in the Dallas – Ft. Worth Area?  Visit HERE to see other areas we serve.