Covid19 Notice - While we are looking forward to sharing the cosmos again, due to the confined space inside the planetarium we won't be able to conduct / schedule programs until after the pandemic has passed.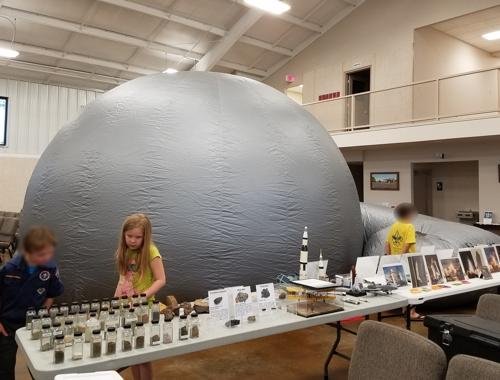 Arkansas SkyDome Portable Planetarium and Science Museum
Bring the wonders of the night sky and STEM to your school or group with our portable planetarium and mobile science museum!.
The Arkansas SkyDome portable planetarium and mobile space science museum provides entertaining and educational space programs for schools and organizations across Arkansas and our surrounding states. Our programs are hosted by Stephen Meeks, who brings over 30 years of stargazing experience and passion to our events.  He also attended numerous Space Shuttle launches at the Kennedy Space Center where he was able to talk to astronauts and NASA personnel, giving your students the rare chance to hear from someone who has seen and experienced our space program in action.
Our inflatable SkyDome sets up easily in your location, bringing a star-filled planetarium to your site. Science exhibits include meteorites, rocket / aircraft models, astronaut autographs, rock and soil samples from around the world, fossils and more. Age appropriate and weather permitting we bring telescopes for safe viewing of the Sun, Moon, planets and other celestial wonders.
More convenient and less costly than a field trip, these programs are suitable for every age group.
Our programs aren't just for schools.  Scouts need help getting their Astronomy badge? Your library or community group want to setup a pubic program or a stargazing event? Would your church like to learn more about God's creation? Learn more about some of our programs below:

Schedule A Program
For more information or to schedule a program contact Stephen at:
skydome@arkansassky.com or 501.314.9250
If possible please schedule programs at least two weeks in advance.
We can also help you pick dates based on night sky events, such as moon phase.
Below you'll find a list of exhibits we bring, background on our presenter, and some reviews.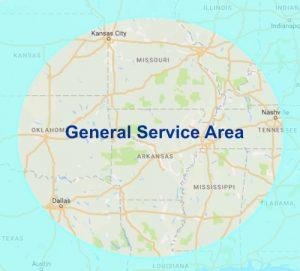 Service Area – Arkansas & Surrounding States.
We travel anywhere in Arkansas.
Other areas we visit:
Indoor room (Gym, Cafeteria, etc.) Minimum floor space: 30 feet by 30 feet
Minimum ceiling height: 12 feet with no obstructions (light fixtures, etc.)
Easy access to parking to bring in and take out equipment
2 grounded 120-volt standard electrical outlets.
Clean, swept floor.
~45 minutes to setup / breakdown equipment
For telescope use – Nearby outdoor location to setup telescope equipment that is easy for students to transition to and is secure between groups.
For multi-day programs, secure location to lock up equipment overnight.
Maximum capacity:

Grades K-7:       35 students

Grades 8-Adult: 30 people 
Programs are 30-60 minutes long depending on your need.

A teacher / parent must be present during programs and accompany student's inside planetarium.

Organization provides 5-8 tables for us to setup the exhibits.

Unless other arrangements are made, program fee due on the date of the programs.

Plan on 45 min. – 1 hour lunch / dinner break for SkyDome hosts where applicable.

Organization assumes responsibility for theft or damage to equipment / exhibits caused by attendees beyond normal wear and tear.
Christ the King Catholic School
Magness Creek Elementary
STEMfest
The Anthony School
University Heights Elementary School
Harmony School of Innovation – Carrollton
Heber Springs Elementary School
Bauxite Elementary School
LISA Academy North Elementary
Jonesboro Public Library
Newport Public Library
Berryville Community Center
Jonesboro Branch Libraries
Monticello Branch Library
Poteau Public Schools
Cabot Reads (Library / School)
Bowie Library
Carthage Library
Jonesboro Branch Libraries
McGehee Library
Tulsa Library
Malvern Library
Celina Methodist Church VBS
Visitors to the SkyDome as of Jan. 2021: 10,000

SkyDome Program Rates, Requirements and Travel Fee. 
Rates*:
| | | |
| --- | --- | --- |
| Program Rates |  # Shows | |
| Short Program (2 hours) |  2-3 | $125 |
| Half Day Program (4 hours) |  3-6 | $225 |
| Full Day Program (4 or more hours) |  6-8 | $325 |
| Math / Science Night Add-On | | $75 |
*Rates do not include travel / lodging fee.  
| | | |
| --- | --- | --- |
| Faulkner County, AR Program Rates |  # Shows | |
| Short Program (2 hours) |  2-3 | $100 |
| Half Day Program (4 hours) |  3-6 | $200 |
| Full Day Program (4 or more hours) |  6-8 | $300 |
| Math / Science Night (In Faulkner County, AR) | | Free |
Programs:
Programs include planetarium shows, exhibits and solar / telescope observing.  Can be day or evening programs.
Travel / Lodging Fee
A $0.70 / mile travel fee ($.35 there and $.35 back) is accessed for groups outside Faulkner County, Arkansas (our home county).
For multi-day events or events booked on consecutive days with other groups nearby, contact us for a travel fee quote and about sharing the travel fee between groups.
A $125 / night lodging fee is assessed for each night lodging away from home.
Exhibits Include:
Rocket / Aircraft Models including a 3.5′ tall Saturn V Rocket

NASA Photos and Memorabilia

Mercury, Apollo, and Space Shuttle Astronaut Autographs

Astronomical Photographs

Meteorites / Geology Specimens

Arkansas Minerals from the Arkansas Geological Survey

Soil Samples from around the world

Fossils

Weather Instruments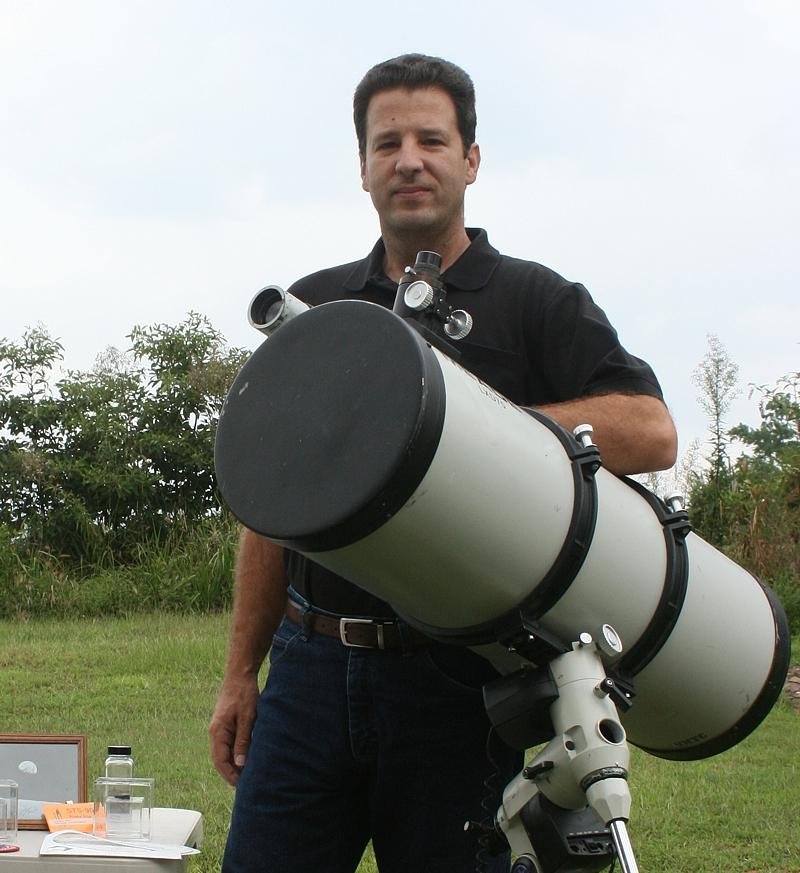 About our Presenter: Stephen Meeks
Mr. Meeks is a dynamic educator who has a passion for astronomy.  He presents the material in a fun, enthusiastic way that catches student's attention and tries to evoke a sense of awe and wonder.  His goal is not to just teach facts, but how to do and participate. He has been presenting public programs since the early 1990s and has taught kindergarten through senior citizens.
30 years of star gazing experience.

6 year as an adjunct college astronomy professor.

Press Representative at Kennedy Space Center for Space Shuttle Launches.

2-Term President of the Northeast Florida Astronomical Society.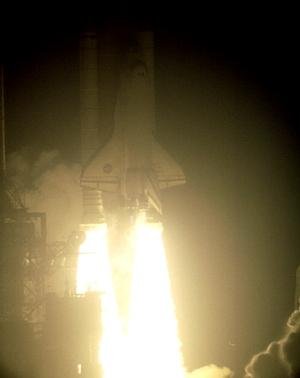 The Reviews are in….
From elementary teachers, scouts, libraries, and grandparents!
Brandi N. (Elementary Teacher) – "THANK YOU so very much for coming to our school!!!!  It was awesome!!!"


Rebecca H. – "Thank you so much for coming to Tulsa yesterday. We had so many wonderful comments about the planetarium and exhibits. "


Elementary School – "Our kids really enjoyed the experience. You guys do an amazing job."


Dottie – Cub Scouts "The boys certainly enjoyed the slide presentation and the observations. They were full of questions and very interested in what you had to say. Due to your efforts these boys earned their science belt loops."


Janet – "The Foster Grandparents really enjoyed the show you gave Friday. You have a nice sense of humor mixed with your expertise of the subject"


Marilyn – Elementary Teacher "Thank you very much for the wonderful program last night! We loved it."


Drew – 2nd Grader "I really liked the slide show and I loved looking through the telescope."


Chester – 2nd Grader "Thank you for shareing your time. It was the frist time I looked in a telescope."