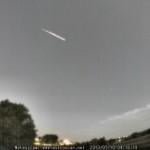 Unfortunately there are few meteor showers during the spring months and they are some of the weakest of the year.  The annual Lyrid meteor shower is perhaps one of the best.  It is active in … Continue reading →
Explore science and the wonders of the night sky with our portable planetarium and mobile science museum!
High-end video projection system to bring the latest technology, programs and opportunities into the SkyDome.
Lyrid Meteor Shower Simulation
Peak: April 21